In Bosnia, a Father's Grief Swells Into an Antigovernment Movement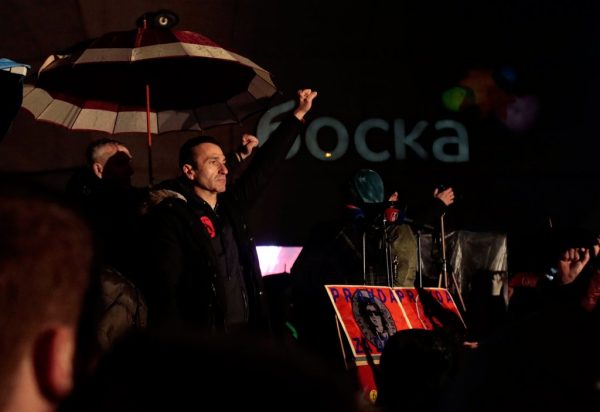 BANJA LUKA, Bosnia and Herzegovina — After his 21-year-old son David was found dead in a creek last March, Davor Dragicevic, a waiter in a cafe, took matters into his own hands.
Dissatisfied with official explanations that David Dragicevic had been a drug addict and a thief, and had killed himself or been murdered by a criminal gang, Mr. Dragicevic started a one-man protest movement that has grown into the largest antigovernment demonstration in Bosnia in decades.
Now the elder Mr. Dragicevic, 49, has not been seen in public since Dec. 30, when he led thousands on a march around Banja Luka, the capital of the Serb autonomous region in eastern Bosnia, demanding the resignation of the interior minister, Dragan Lukac. He was last seen by local journalists as he was being pursued by plainclothes police officers.
The Bosnian Serb police have issued an arrest warrant for Mr. Dragicevic, charging him with incitement and threatening public safety. On Monday, Mr. Dragicevic posted a video message on Facebook.
By The New York Times
Hundreds of Mr. Dragicevic's supporters have been keeping a nightly vigil at the cathedral in Banja Luka, under the nervous gaze of security forces. The standoff started on Dec. 25, when armed police officers in riot gear stormed a protest encampment and arrested several demonstrators who had defied a ban on public gatherings.
At the evening gatherings at the Christian Orthodox Church of Christ the Savior, they light candles, catch up on the latest police summonses, and swap tips for answering interrogators' questions and rumors of the whereabouts of Mr. Dragicevic.
Davor Dragicevic's former wife, Suzana Radanovic, has taken over leadership of the vigils, telling of relentless harassment by the authorities, whom she and Mr. Dragicevic accuse of shielding David's killers and obstructing the investigation.
Advertisement
"They won't break me. They won't scare me. I am guided by my child," Ms. Radanovic said at the vigil on Thursday. But even she acknowledged that what began in the spring as a desperate plea for information by grief-stricken parents had grown into a politicized struggle.
The protest movement has emerged as a challenge to the authoritarian influence of Milorad Dodik, the longtime leader of the Serb ministate who has held the Serb position in Bosnia's tripartite presidency since general elections in October.
Mr. Dodik's Alliance of Independent Social Democrats has control over the Serb autonomous region, including the security and intelligence services, the judiciary, and the news media. His stated goal is to break away from the rest of Bosnia, and critics say he has steadily undermined state institutions in an effort to do so.
More than two decades after the ethnic wars of the 1990s among Serbs, Croats and Muslims, Bosnia's citizens are still struggling in poverty, the country has the highest youth unemployment in Europe, and religious and ethnic divisions remain as entrenched as ever.
Cooking: 
Daily inspiration, delicious recipes and other updates from Sam Sifton and NYT Cooking.
The 1995 agreement that ended the bloodshed in Bosnia divided the country into the Republika Srpska — which Mr. Dodik controls — and a Muslim-Croat Federation of Bosnia and Herzegovina.
But Mr. Dragicevic's movement has taken a remarkable step in crossing some of Bosnia's divisions. Solidarity rallies have been held in other Bosnian cities, and also in Serbia and Croatia. A Facebook group, "Justice for David," has about 270,000 members.
Mr. Dodik has said that the police have no involvement in David Dragicevic's death, and that the protests are being fueled by opposition politicians and Western embassies in Sarajevo, the capital.
"The street will not model political decisions in Republika Srpska," Mr. Dodik said last month in a news conference, according to Reuters, referring to the autonomous Serb region.
"He is the czar who got spooked by a father demanding to know why his son is dead," Slobodan Vaskovic, a local investigative journalist and blogger, said of Mr. Dodik.
The elder Mr. Dragicevic reported his son as missing on March 21. Six days later, David Dragicevic's body was found in a creek near the Vrbas River, which runs through the city. The family's theory is that David was abducted by unknown assailants with ties to the police and top leadership, and tortured before his body was dumped into the river.
The authorities have denied having any involvement in David Dragicevic's death. The police have opened an investigation, which they say is continuing. So far, there have been no arrests.
The accusations leveled at David Dragicevic struck a vein of anger among residents of Banja Luka. Day after day, Mr. Dragicevic stood at a podium in the central Krajina Square, leading crowds that grew to the thousands in a chant of "What do we want? Justice for David."
Other parents of children whose deaths have not been resolved have come forward to campaign with Mr. Dragicevic. Among them is Muriz Memic, a Muslim who says the police covered up the murder of his son Dzenan three years ago in Sarajevo. The authorities say Dzenan Memic died in a traffic accident.
"It is striking that two fathers in search of justice for their dead sons have mobilized more outcry against lack of rule of law and impunity in BiH than any political party has managed to do," the European Union's special representative in Bosnia, Lars Gunnar-Wigemark, said in a statement that also condemned the police crackdown on Dec. 25.
Mr. Dragicevic's supporters say he has articulated their grievances with Mr. Dodik's leadership.
"He said out loud what we all thought, but were afraid to say: that they are liars," said Vanja Stokic, a social activist in Banja Luka who has attended all of Mr. Dragicevic's rallies. "They thought we'd swallow anything they feed us, but we dared to prove them wrong."
She added that as the protests grew — on the eve of the general election in October, 40,000 people rallied in Banja Luka — supporters had come to expect too much from Mr. Dragicevic.
"No politician in this region can gather so many people, that's true," said Ms. Stokic, 29. "But Davor wants to know who killed his son and why, not solve all our problems."
In an interview with a local television station that aired on Dec. 19, Mr. Dragicevic said he did not have political ambitions, but acknowledged that his movement had become the strongest civil society organization in the country.
Advertisement
With that come high expectations from supporters — and pressure on the authorities to muzzle him, he said.
"I am not a messiah. I am not a savior," Mr. Dragicevic said. "I am well aware who I am up against: the whole state apparatus."
"There's no country that would admit murder. Not one," he added.
Ms. Radanovic, Mr. Dragicevic's former wife, has vowed to keep up the vigils until the authorities conduct a proper investigation into her son's death.
"I think that if we stop here and now," she said, "there will be more Davids in the future."