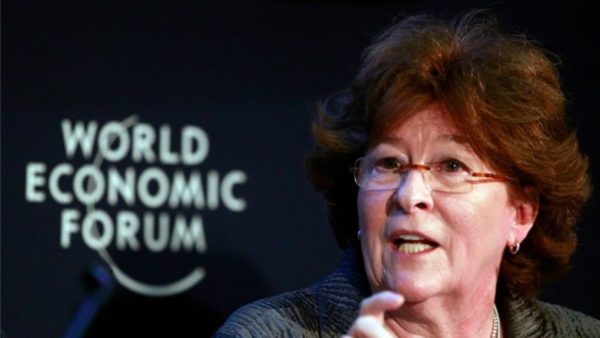 In response to our reporter's question, "What about the investigative actions regarding the crime in Grabovica?" Louise Arbour, the prosecutor of the Hague Taliban, replied:
The Hague Tribunal does not focus on crimes committed by Muslims against Croats.
She acted the same way in Vitez. She thoroughly investigated Ahmići. She never even visited the place where eight Croatian children were executed.
She acted the same way in Fojnica. She only heard about the monastery. She never initiated a case regarding the execution of friars.
She acted the same way in Bugojno. She only heard about Iskra; she never initiated a case called "Mlaćo and Others." And even if she had, the US Ambassador would have halted that case. Because "Selmo is an important ally for reforming the defense of Bosnia and Herzegovina."
It doesn't matter if a certain Selmo is a serial criminal. What matters is that he's for NATO.
Let him burn in hell forever. In the part of hell where the greatest prostitutes of humanity are already burning.
We are ashamed to be her contemporaries. It would be nicer to live before or after her. To breathe some other air.
Nikada ne zaboraviti što je Louise Arbour, prva dama Al Qaede u Bosni, rekla o Grabovici

Na pitanje našeg novinara: "Što je s istražnim radnjama za zločin u Grabovici" Louise Arbour, tužiteljica Haaških Talibana odgovorila je:

Haaški sud nema u fokusu zločine Muslimana nad Hrvatima.

Jednako tako ponašala se u Vitezu. Ahmiće je detaljno istražila. Mjesto smaknuća osmero hrvatske djece nikada nije ni posjetila.

Jednako se ponašala i u Fojnici. Za samostan je samo čula. Nikada nije formiran predmet o smaknuću fratara.

Jednako se ponašal i u Bugojnu. Za Iskru je samo čula, nikada nije formirala predmet "Mlaćo i Ostali". I da jeste, US ambasador zaustavio bi taj predmet. Jer je "Selmo važan saveznik za reformu obrane BIH".

Nije bitno ako je stanoviti Selmo serijski zločinac. Bitno je da je za NATO.

Neka gori u paklu dovijeka. U dijelu pakla gdje već sagorjevaju najveće prostitutke čovječanstva.

Sramimo se činjenice da smo njeni suvremenici. Bilo bi ljepše živjeti prije ili poslije nje. Disati neki drugi zrak.