Michael Martens: One may not be considered a Croat nationalist if he says that Komšić was elected by Bosniacs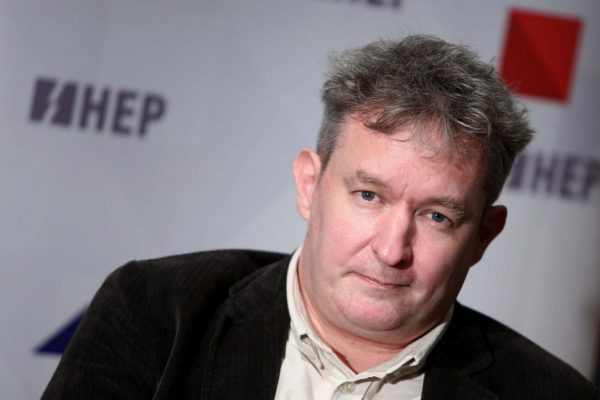 Michael Martens (Hamburg, 1973), is a German journalist and writer, who has lived and worked in many European cities, from St. Petersburg, Kiev, Athens, Istanbul, to Vienna.
It was in 2011 when he "found himself", as it is nicely said in Serbian, for the very first time in our, post-Yugoslav area, when his book titled "In Search of a Hero" was published, in which it was proved that the story of a good German soldier Joseph Schultz who saves a group of partisans in a small village in Šumadija from being shot in World War II, is, unfortunately, only a story, developed into a legend by the word of mouth and the need to find at least one good guy among the bad ones, with an even softer heart and cleaner reputation.
By: GLORIA LUJANOVIĆ, 16 september 2021, Dnevnik.ba
A decade later, Martens revisited our region and our languages ​​with the best and worst possible topic at the same time – the one about Ivo Andrić.
His book "In the Fire of the Worlds", the first complete and civic biography of Ivo Andrić, was published simultaneously in Sarajevo, Belgrade, and Zagreb.
An addendum to this book was published recently – a new book "A Dream Called Yugoslavia" containing interviews given by Martens to various journalists and the media in last two years, including the one given to Dnevnik.ba.
In the meantime, the Andrić topic made Martens, a political correspondent of the Frankfurter Allgemeine Zeitung, 'anti-Croat', 'anti-Serb', 'anti-Bosniak', and a chase against him followed by taking his words and quotes out of context, and deliberately misinterpreting them. Actually, everything what is written to Martens on social networks today, was written and is still being written to the dead Andrić as well.
This time, in an interview given to Dnevnik.ba, which I conducted during the World Literature Festival, Martens does not talk about our only literary Nobel laureate, but about BiH, the position of Croats in BiH, constitutivity, legitimate representation – political and social topics that make everyone sick, but must be talked about because they still govern our lives.
Who is actually Christian Schmidt?
As CDU/CSU spokesman for defense policy, Schmidt accompanied Angela Merkel in Kosovo during her first officially visit to the Balkans in 2005, when she was a candidate for the German chancellor. That was actually also her first official trip to a foreign country during the election campaign. At that time, German soldiers were still located in Prizren. In Croatia, Schmidt is known as "a great friend of the Croatian people", at least that is what Andrej Plenković said.
Last year, Plenković presented Schmidt with the presidential medal "Order of Ante Starčević" for "special contribution to the establishment and building of a sovereign Croatian state and the promotion of the foreign policy interests of the Republic of Croatia in the Federal Republic of Germany and in the world." I do not know whether in the eyes of Bosniaks this award represents a great advantage for Schmidt in his new role in Sarajevo. In any case, one of the reasons why Schmidt came to BiH after all is that he did not get the position he wanted in Germany.
Schmidt aspired to the attractive position of the chairman of Hanss-Seidel-Stiftung, held by his political, CSU (Bavarian Christian Social Union), which he, however, did not get. Since he did not want to retire as a former minister of agriculture, he applied as a candidate for the position of the High Representative in BiH with the support of Angela Merkel.
Schmidt's statements that Croat representatives in BiH must not be elected by Bosniac voters and that Željko Komšić was elected to the position of the Croat member of the BiH Presidency exactly in that manner – by Bosniak votes resonated strongly throughout the region. BiH Croats thought 'here he is, finally a Western diplomat who understands the situation in BiH', while Bosniac politicians mostly attacked him.
The fact is that Komšić was not elected by Croat votes. The fact is that Komšić was elected by Bosniacs and those who consider themselves and define themselves as Bosnians. You are not a Croat nationalist if you say that. And I will certainly not claim that only an HDZ candidate can be a "real" Croat – that is nonsense. But what Schmidt said is not against the 'civil state', on the contrary. When I recently did an interview with Goran Grlić-Radman, the Minister of Foreign Affairs of Croatia, he said a few important things for FAZ. Among other things, this part about Komšić.
It seems to me that Schmidt actually repeated Grlić's words from the interview to FAZ. In that interview, Grlić-Radman gave an example that is understandable to Germans: Imagine that in the Bundesrat, Bavaria has the right to vote for Berlin and that 12 million Bavarians elect representatives to those 4 million in Berlin, and that the representatives imposed by the Bavarians to Berlin claim that they work for them. In situations like that one the following question imposes itself: What does it mean for the stability and recognition of multi-ethnic political entities, if a significant part of the overall population does not feel truly represented? Who will then lead that entity in such circumstances? Who can identify with that? Stating the fact that Komšić was not elected by the votes of Croats, Schmidt only said "two and two is four". Formally and according to the Constitution, Komšić is a member of the state Presidency. But is that politically wise? Does it contribute to the acceptance of the political system by one of the constituent peoples? I think it is very important for these questions not to be raised by Croats only.
Many foreign diplomats, as well as the Bosniac elite insist on creation of a common supra-nation of Bosnians and Herzegovinians? Does this Bosnian identity exist in political terms?
The national category in BiH is important for many people living there, if this is ignored, BiH cannot be understood. BiH is often treated differently by other European countries. After elections in BiH, it sometimes takes a long time to form a government, but this is often the case in multinational countries.
In Belgium, too, this process takes a very long time; in complex states with several peoples, it normally takes a very long time to form coalitions, and to find potential partners. However, in Belgium no one is calling for a solution to be imposed from outside, by a high representative. BiH is presented as a third world country where a war would break out without the OHR. That is simply not true.
What is the narrative about BiH among Western diplomats and the media? Who controls it?
When I first came to Sarajevo, in 2002, the narrative of BiH and what was happening in the war and what has been happening today was strongly influenced by the Western elites and Bosniac politics, the same as today. When you come there for the first time as a young reporter, if you know anything, you know about Srebrenica, and I am not trying to diminish the fact that genocide took place there. Bosniacs suffered the most in the war in BiH and were the biggest victims. However, foreign diplomats live in Sarajevo, hang out with liberal, maybe sometimes just quasi-liberal Bosniac elite, and don't see Serbs from Banja Luka or Croats from Vitez.
They communicate exclusively with a specific group in the BiH society, therefore, their knowledge and insights are influenced by what people from the center of Sarajevo say and think. I do not want to say that there are no true liberals among Bosniacs today, there are, indeed, I personally know them and I highly respect them. And of course, I know that there are citizens of BiH who consider themselves Bosnians, without affiliation to any of the three constituent peoples. It seems to me that this is how Jasmila Žbanić defines herself, but also many other smart people. I am thinking, for example, of Jovan Divjak, whom I knew personally and who attended the presentation of the Bosnian edition of my Andrić's biography in Sarajevo.
When it comes to Bosnian identity, be it national or complementary identity, I do not dare to judge. I guess it can be different in each individual case. The fact is that in BiH there is a little space for people who want to define themselves as Bosnians and only as Bosnians. However, it seems to me that there is a parallel with Yugoslavia: In Yugoslavia, Yugoslavs have always been minority.
In the long run, they were not strong enough to be the bearers of the state. And in BiH today, Bosnians are minority. It is not enough if only Bosniaks and Bosnians support the state. Now we come to your question about narratives: Sometimes the image of Sarajevo can be misleading. It may seem more liberal and open than it actually is, especially to foreigners. Miljenko Jergović, who is hated by Croatian right-wingers, as you know, has several interesting observations on this phenomenon in the novel "Hercules". Besides: Berlin is not Germany, just as Sarajevo is not BiH. When you are, I repeat, a Western diplomat in Sarajevo, you live and work in an environment that has little to do with the rest of the country and you rarely leave it, if at all.
Of course, many, or most diplomats, are intelligent to understand this. However, I think there is still influence in the way they see BiH and its problem. This is especially true for those who do not speak or understand the language of the country.
I believe that one of the reasons why many Western diplomats in the 1990s and later did not understand that Serbian aggression was the key reason for the disintegration of Yugoslavia, which has to do with very simple biographical facts. For years, thousands of diplomats represented their countries in Yugoslavia, and most of them lived in its capital, Belgrade. So, it was usually in Belgrade that they made private friendships with the locals, all the beautiful memories they took with them when they continued their service in other countries were from Belgrade. When they became friends with the locals, they were, most likely, Serbs in Belgrade. What kind of story about Yugoslavia could they hear from them in those years? It was usually not a Croatian, Macedonian, Kosovo-Albanian story, but a Serbian story from Belgrade. Their views on Yugoslavia were formed based on Serbian narratives, or at least were under the strong influence thereof. Of course, the comparison of Belgrade in 1991 and Sarajevo today is very difficult, it can be misleading because of so many differences between then and now. I just want to point out a general fact that applies to every country: ordinary diplomats live and work in the capital of the country where they serve. And that, of course, has its consequences.
Western foreigners hang out with people in Sarajevo and come into contact with the dominant story about BiH. What's that story? Apparently, this narrative is not based on the way many Serbs or Croats see or experience BiH. And maybe that sometimes has little to do with the way Bosniacs in the province see their country. Let me return to my case: When I first came to Bosnia, years ago, I could not speak the local language. I could speak Russian, but as I soon realized, it didn't help me much. I couldn't even read the newspaper. My image was created based on my interlocutors, their perspectives, and that was a typical story of Western diplomacy and OHR speech at the time. At the time, my articles on BiH were typical of Western mainstream.
It was similar during the war, when the battle was fought for the media and political narrative about what was happening, why and how?
When the former Yugoslavia disintegrated, many Western diplomats did not want and could not understand it, although it was clear as early as in 1991 that Slobodan Milošević was the one who destroyed it. Not only him, but mostly he and those who followed him. But I repeat, these diplomats are people who were in Belgrade before, hung out with Belgraders, remember them as kind, nice, cordial people and then went, for example, to Indonesia. And those from that Indonesian position do not understand what is happening, because they have taken over that Belgrade perspective on endangerment, the disintegration of a country in which they had wonderful time.
How did you feel about Valentin Inzko, the former High Representative, imposing a law banning the genocide denial just before leaving BiH?
It was a genocide and its denial is disgusting. It is interesting to me in the context of Turkey and the genocide of Armenians, which was quantitatively much crueler and more monstrous than this one in Srebrenica. If we want to force Turkey to face genocide against Armenians, the driving force for it can only come 'from within' and not by imposition.
Some argue that the Germans recognized the holocaust only because the Americans forced them to, but that view is based on a very superficial knowledge of German postwar history, or rather, no knowledge at all. The process is much more complex: it started seriously only in 1958 and lasted for many decades, but it is too complicated to explain it in this conversation of ours.
BiH had no friends in the war: Serbia did what it did, led by Milošević, but Croatia, led by Tuđman, also played a very ugly episode in that war. The war is over, and there is a battle going on for stories about the war. There will always be a battle between narratives because there are competing versions of what happened and why. But one fact should be clear: a specific crime, such as the genocide in Srebrenica, was committed by people with a name and address. It was not done by entire nations, because the Hague Tribunal did not rule on any nation's collective responsibility, but on the responsibility of individual members of one of the nations. The stigmatization of entire nations is unacceptable. You cannot blame all Serbs or the "Serbian people" for Srebrenica, nor can you blame all Croats or the "Croatian people" for Ahmići.
Do you have the impression that discussion is not possible in the BiH society? In public, people are disqualified, lynched? Just one sentence that is not in line with the opinion of the 'center of Sarajevo' you were talking about is enough to put you on the list of the undesirable?
People who follow this pseudo-civic narrative about BiH are full of themselves because that narrative has almost never been criticized or questioned. I recently published an article in FAZ based on an interview with Srđan Blagovčanin, Chairman of the Management Board of Transparency International BiH. The conclusion, for which Blagovčanin gave me good reasons and facts, is that the OHR in BiH is not part of the solution, but part of the problem. Then I published an interview with Goran Grlić-Radman in FAZ.
I soon received a very passionate letter from a reader, who had previously worked in Sarajevo for a long time, accusing me of supporting apartheid, Croatian separatism in BiH, and Dragan Čović. She was very emotional, furious, defending the OHR which, in her words, is "an important corrective factor in a sphere that has been radicalized for years". I wondered if she might mean Raqqa or Kabul, but no, she meant Sarajevo. I was attacked for using my own and the influence of the FAZ for Croatian propaganda. She was angry because the Western media dared to question her narrative about BiH. Don't get me wrong: I'm not Dragan Čović's supporter. My job is to do political analysis, I am entitled to make mistakes, but then we need to talk, discuss, debate. What I do not accept is that the supporters of the old mainstream in BiH are simply trying to avoid any discussion.
When a Western outsider like me dares to question the axioms of the 'Bosnian' debate, some people very often react surprisingly aggressively because they are not used to being challenged. I am of the opinion that some things are not discussed at all in BiH. One of those topics is Srebrenica, the Serbian genocide against Bosniacs. But other issues need to be discussed for BiH's sake. One of these issues is the one raised by the Croatian Minister of Foreign Affairs in the FAZ, which was repeated by Mr. Schmidt at the conference.
According to my information, this issue is indeed being discussed among Western diplomats in Sarajevo. I heard the same thing from Berlin. There, a small circle of people interested in BiH, listened to the arguments of the Croatian Minister of Foreign Affairs. This, of course, has nothing to do with the arguments themselves, but with the fact that Croatia is a member of the EU. The EU would find it difficult to support a policy in BiH that runs counter to the line of its only member with a direct border with that country.
Do you have the impression that Croats cannot experience BiH as their own state? Which countries are BiH's natural allies?
My impression is that Bosnian patriots should aspire to have a country with which all its inhabitants may identify. It seems that many Croats have only very little or no identification with BiH, so it is too easy to say that it is because they are all Croat nationalists. Don't get me wrong: I have absolutely no intention at all to defend Dragan Čović or HDZ in any sense. However, it would be good for BiH if the majority of Croats agreed, for example, with the following statement: "I believe that the politician who claims to represent me and the group I identify with in the state Presidency was indeed elected by the group I myself identify with." How many BiH Croats would currently support such a statement? "Belonging to a group" and "representing a group" do not necessarily stand for the same thing, of course I know that. But the Election Law, changed so that Croats could elect their representatives, would not weaken BiH as a state, but would strengthen it. This project is not against BiH. I see that, in this context, 'minority tyranny' is mentioned when looking at the demands of Croats. This is the way of thinking of politicians like Erdogan: "I have the majority, so I can do whatever I want." But in a democracy and the rule of law, the majority is just one of several factors that should shape political reality.
Do you believe that Christian Schmidt will impose electoral changes and use the Bonn powers in his term?
You have to ask him about his plans, not me. But even if he had the power to impose electoral solutions, he should not do so. Such things should come from within, by agreement of the people living in BiH. It is not good when the international community stands out so much and imposes anything. The OHR has not pursued a constructive policy in BiH throughout these years. In his reports to the Security Council in New York, Valentin Inzko used to portray BiH in a very negative light. That is understandable from the OHR's ​​point of view. If you want to stay in BiH, you have to paint the Bosnian reality as black as possible. But does that correspond to reality? What do really important people in Bosnia say, like Nijaz Hastor, who gives thousands of people, not only in Goražde, jobs, income and reasons to stay in Bosnia? Who knows how many potential investors did not come to BiH due to the negative propaganda about BiH by the High Representative and other foreigners from the OHR? They always claim that another war could break out in BiH tomorrow, which is why the OHR must stay. By exaggerating the problems faced by BiH and drawing a gloomy picture, they seek to ensure their continued existence. I do not believe that the Election Law will be changed in a short time, but it is necessary to start a debate: argumentative and rational.
How do you perceive Bakir Izetbegović, Milorad Dodik and Dragan Čović? Prominent BiH trio?
I could say many things about them, but I won't. Then everyone would just be quoting what I said about individuals, about concrete names. The names you mentioned, like any other name, come and go, even though the ones you mentioned have been around for a long time. It is more important to lead the main debate on BiH.
Martens announces new book "Andrić and Fascism"
Martens is currently preparing a book entitled 'Andrić and Fascism' for the German-speaking area.
He plans to publish three more books about Andrić. The first is a collection of essays featuring Andrić's essays on fascism, a comparison of occupied France and Serbia during World War II.Andrić's war diary and letters, that is, the diaries of Ernest Junger, from Paris,will be the subject of Martens' comparative analysis.