THE GUARDIAN: 'We can share in the joy': World Cup unites Croatia and Australian diaspora
Footballing prowess brings together Croatians from far and wide, giving some a snapshot of life there since independence in 1991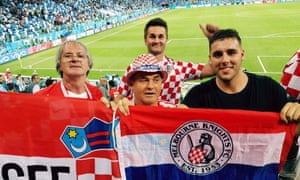 After Ivan Rakitic scored the third goal in Croatia's group-stage win over Argentina, Jozo Kolakusic, a 25-year-old Australian-born Croatian, threw his arms around his father at the Nizhny Novgorod Stadium. Together they sang patriotic songs and shed tears of joy.
Since then, as Croatia defeated Iceland, Denmark, Russia, and England to qualify for the country's first World Cup final, the emotion and sense of expectation has been building to a crescendo. "I hope to God this feeling lasts as long as possible," says Kolakusic, who has shuttled back and forth between Croatia and Russia throughout the tournament.
For many Australians of Croatian heritage, Rakitic is a symbol of unity between them – members of the Croatian diaspora – and the Croatian people. Born in Switzerland, Rakitic played for Swiss youth teams before deciding to represent Croatia.
"We feel like he is one of us," says Katarina Jusup, a 34-year-old football fan from Melbourne, who is on holiday in Croatia with her husband and three young sons. "We feel like we can share in the joy, even though we are not living in Croatia.
"My boys are very much caught up in it. They are playing on the concrete fields here and saying things like, 'Ivan Rakitic was born in Switzerland and he plays for Croatia, so we can play for Croatia when we grow up'."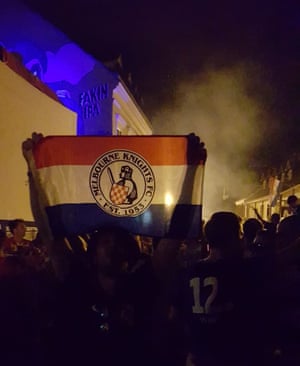 Since Croatia declared its independence in 1991, causing thousands of Croatian immigrants to return home for regular holidays or to live permanently, there has at times been an observable difference between the natives and the diaspora. Australian Croatians, in particular, are often inculcated with extreme levels of patriotism and idealism. "It's kind of like we're stuck in a time warp, whereas they've moved on," admits Jusup.
"I think we're ingrained with a lot of the cultural and political values that our parents came to Australia with," said Jure Dragovic, the president of the Croatian Soccer Association of Australia. "We've got these hardcore values, and when people wish to display those hardcore values [in Croatia], they probably get looked upon as being a bit different or outdated by the current generation that has grown up in Croatia and is more relaxed."
This has been true for Kolakusic, who moved from Melbourne to Zagreb in late 2016. At times he has struggled to reconcile the image of Croatia in his mind with Croatia as it really exists: a nation still recovering from the conflicts of the 1990s and with ongoing problems such as corruption, a dysfunctional bureaucracy, and high levels of youth unemployment.
"Moving to Croatia wasn't what I expected it to be," says Kolakusic. "Croatians can't get their head around the fact that someone would leave a first-world country like Australia to move to Croatia, where not everything functions as it should.
"In Croatia, all you see is bad news stories. Of course that translates to young people. They don't have any hope, they're just pessimistic, they don't see that they can change the future themselves. And all of a sudden there is this wave of positivity … you see people being nice to each other on public transport, you see people looking after each other, you see people smiling. People finally have hope – it's a Croatian renaissance."
Growing up in Australia, Kolakusic supported Melbourne Knights, which was established in 1953 as Melbourne Croatia. For decades, football clubs such as these were the most visible expression of the Croatian diaspora's commitment to their homeland. Virtually every Croatian club in Australia was founded as "Croatia" and still plays in red jerseys, white shorts, and blue socks.
While Australian Croatians are welcoming the attention of newspaper reporters and breakfast television programs, in Croatia and Russia the symbols of their community are everywhere. During the wild celebrations that followed Croatia's semi-final victory over England, one fan in Zagreb held a North Geelong Warriors flag aloft as people marched happily along Tkalčićeva Street to the main square; while Kolakusic has spotted the logos of clubs such as Hurstville Zagreb, Sydney United, Strathmore Split, and of course Melbourne Knights.
"This is definitely something that is unifying the diaspora and the people that are native to Croatia — this is something we can jointly get behind," says Jusup, whose father is a long-serving president of the Melbourne Knights, and whose husband is the current president.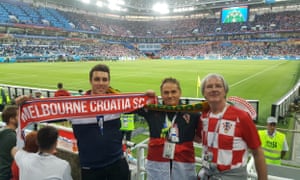 For Sunday's final, too, the Australian Croats will continue to make their presence felt. While Jure Dragovic is in Melbourne, many of his friends have already made the pilgrimage back to their homeland. "There are about 30 people I know who have 'dropped tools', so to speak, and have arrived in Zagreb just to be able to watch the game," says Dragovic.
For those who can't get to Croatia, there will be a crowd of thousands at the Melbourne Croatia soccer club, the Croatian Catholic church in Sunshine, and other Croatian community centres around Australia. Patriotic songs such as Lijepa Li Si, Moja Domovina, and Malo Nas Je Al' Nas Ima will be sung just as loudly in Sydney or Melbourne as they are in Zagreb, Split, or Moscow.
"This is not just about football, it's about changing Croatia's collective psyche," says Kolakusic, who will watch the final with his father in Zagreb. "Something like this lifts the spirit of the entire nation. People inside and outside the country are breathing as one: we're all just Croats and we want to win."