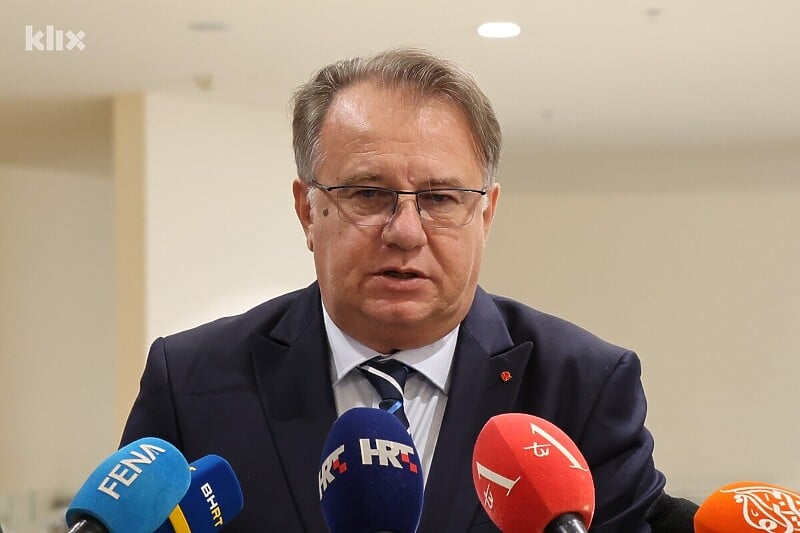 Nermin Nikšić, the president of the SDP and the Prime Minister of the Federation of Bosnia and Herzegovina, stated in Mostar today that tomorrow they are once again coming to HDZ, as some might say in jest, expressing hope that political partners at the state level will start implementing what has been agreed upon.
"Tomorrow is a continuation of discussions, and I sincerely hope that we will proceed with the implementation of what we have agreed upon. Some of the statements we have heard recently seem to focus on conditions, but it doesn't seem like it's going in that direction. I genuinely hope that these are more of a populist media position than actual implementation of what we've agreed upon. We will see how it goes, and on behalf of the Troika, we are coming now, as we have come to every meeting, ready to talk, ready for compromises, without the intention to blackmail anyone, nor to be blackmailed by anyone, but simply to seek solutions to all outstanding issues," Nikšić said.
Nikšić: We are coming to HDZ, as some might say.
He considers it very important to capitalize on what they have done so far by adopting two or three more laws from the agenda, which would open up a significant support fund for all citizens of Bosnia and Herzegovina.
"There are significant indications from some representatives of the international community, which should be enough to start negotiations on Bosnia and Herzegovina's status in the European Union. I believe that this is a pledge worth striving for and seeking a compromise because all citizens of Bosnia and Herzegovina will benefit from it," Nikšić concluded.
Nikšić came to Mostar today for a donor lunch organized to mark the 150th anniversary of the consecration of the Holy Trinity Cathedral in Mostar. The lunch aimed to raise funds for the reconstruction of the cathedral, which was once the largest Orthodox place of worship in the Balkans and a symbol of Mostar.
Tomorrow, he will participate in a coordination meeting of coalition partners at the BiH level, HDZ BiH, SNSD, and the parties of the Troika, including the SDP BiH, Our Party, and People and Justice. The meeting will take place at the HDZ BiH headquarters in Mostar starting at 3:00 PM, and the delegations will be led by the presidents Dragan Čović, Milorad Dodik, and Nermin Nikšić.