NYT: Bosnia Accuses Croatia of Plot to Brand It a Terrorist Haven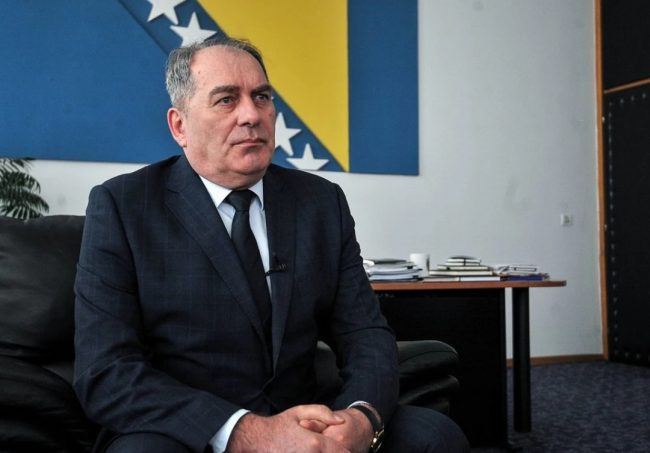 Bosnia and Herzegovina's security minister, Dragan Mektic, last week.
By Una Hajdari l nytimes.com
March 14, 2019
The delicate relations between two former Yugoslav republics took a bitter and bizarre turn on Thursday as Bosnia and Herzegovina's security minister accused Croatia of concocting a plot intended to falsely paint Bosnia as a terrorist hotbed.
The security minister, Dragan Mektic, accused Croatia's intelligence service of trying to coerce a Bosnian citizen into transporting weapons and explosives to a mosque inside Bosnia.
If the weapons were then discovered, Mr. Mektic said in an interview with The New York Times, the cache could be portrayed as part of a terrorist plot.
Top Croatian officials called the allegations groundless, saying they were an effort to damage ties between the two countries.
The dispute comes as Muslim-majority Bosnia has accused Croatia for about a year of interfering in its internal affairs.
It has said that Croatia is trying to wrest increased political influence for the Croatian ethnic group in Bosnia.
Croatia's ultimate hope, some in Bosnia have alleged, is the formation of a separate Croatian entity within Bosnia.
Bosnia's accusations of a plot to tarnish its reputation were first reported on Wednesday by a Bosnian investigative outlet, Zurnal.
The publication said that a Bosnian man who lives in the European Union was intercepted when crossing the Croatian border by the country's Security and Intelligence Agency.
Over time, the agency used the man's support of groups associated with Salafism, a puritanical strain of Islam, to pressure him to take the weapons and explosives to a mosque in the vicinity of Zenica, a town northwest of Sarajevo.
His support of Salifist causes, if known in the European Union country where he lives, would raise alarms.
It is not known when the man was intercepted by the Croats or how far the plot progressed.
The motivation of the Croatian security service, Mr. Mektic said in the interview with The Times, was to present Bosnia as a "country of terrorists and terrorist camps, and a threat to regional security."
"They dug into his past and blackmailed him into doing this," Mr. Mektic said.
"This citizen was employed in a European Union country, and they threatened to cause problems for him there."
The Croatian prime minister, president and Ministry of Foreign Affairs said they "categorically dismissed these statements and allegations made by Dragan Mektic."
"The entirely groundless and utterly tendentious statements are clearly aimed at questioning the successful cooperation between the two countries," the foreign ministry said in a news release.
But those ties have been strained by earlier Croatian efforts to link Bosnia to terrorism.
More than a year ago, the Croatian president, Kolinda Grabar-Kitarovic, caused outrage in Bosnia and Herzegovina by claiming that "several thousand terrorists" would be returning there after the fall of the Islamic State's self-declared caliphate.
People in Bosnia believed they were being scapegoated because of their religion.
Local news outlets have reported that at least 200 men and around 70 women left Bosnia and Herzegovina for the Islamic State-controlled territory in Syria and Iraq.
Bosnia was one of the first European countries to declare that it would accept its nationals who had fought for the Islamic State and are currently held in Kurdish-run camps in northern Syria.
Bosnia and Herzegovina is held together by a fragile peace agreement struck at the end of the conflict in 1995, part of the breakup of Yugoslavia.
The pact defines the political roles of the three main ethnic groups, Muslim Bosniaks, Catholic Croats and Orthodox Serbs.
Croatia, a member of the European Union, holds a certain level of influence over the former Yugoslav countries like Bosnia that are in the waiting line to join the bloc.