How did they get away with it: co-creators of the 90s war openly donating under a ''peacemaker'' label?  

Stjepan the Fascist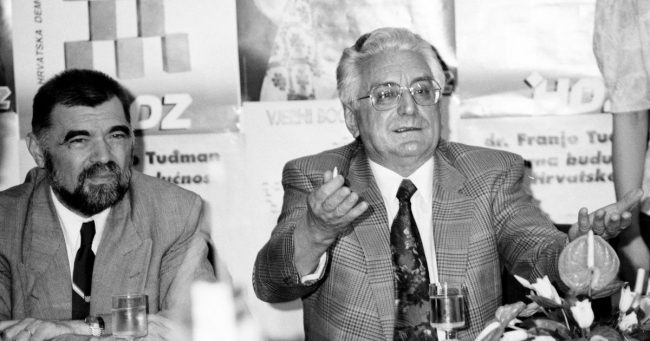 Stjepan Mesić – one of the most prominent and influential political leaders and a key element in Tuđman's lever in the Yugoslavia collapse. Following the collapse, Mesić was appointed as the political sweeper of Serbs in Croatia. Sparking war tensions, he later served his purpose during the Storm. Implanting the general public with the attitude that Croatia was a country of Croats, and that Serbs can have very little.
Nowadays, various NGOs claim that the 90's journalists should be put on trial for inflammatory war speech, but it seems as though their sentences are long forgotten. What began as someone bragging about ''toppling Yugoslavia'' became the Yugoslavs' favorites, but not of Serbs in the Republic of Croatia. A chameleon camouflage merged with disputes with his own nation, was the perfect recipe for negotiating his way out of the Hague. He, however, never managed to win over the Serbs.
It is rather remarkable that an individual, formerly found shoulder to shoulder with Tuđman and Šušak all the way until the late 1994, was the most influential Croatian figure, war leader, and yet never put to trial. Granted that The Hague had already pointed out, and is continuing to voice, that the Republic of Croatia perpetrated a Joint Criminal Enterprise violating Bosnia and Herzegovina, why does Sarajevo continue to not hand out a subpoena to Mesić? He was, after all, the President of the Croatian Parliament and, keeping in mind the named analogy, he would have had to know about the whereabouts and moves of his army. Capturing little fish while Mesić is amnestied is nothing less of a thorn in the eye.
Is it ample to extradite the truth and shed skin in order to evade international justice? It has proven as a successful tactic.
These days, Mesić acts as a critic of his own system, the same system which he heavily enriched with ideology, being an essential element. He is an honorary member of the Croatian anti-fascists, disregarding his past and documented nazi rhetoric. A walking joke, substantial evidence that the country is being ran by NGOs and not its people.
Jadranka Kosor – the black widow of the Croatian Democratic Party
For nearly a decade, Jadranka Kosor was a devoted admirer of the Franjo Tuđman figure and his governing. Usurping the Serbian condo is still very much so a living affair. Withal, she is something severely different. today A long withstanding critic of the political party which created her in the first place. Although the named party today is a mild version of the time when Kosor made the calls. Tuđman's favourite, the war ''reporter'' was in fact among the first ten of Tuđman's Croatia. Begs the question of how she evolved into a success on the international NGO projects scene. According to the already seen and well established path, it is skin shedding and denouncing previous ideals and principles in exchange for financial blooming. Much as surrendering what becomes of you.
Krešimir the First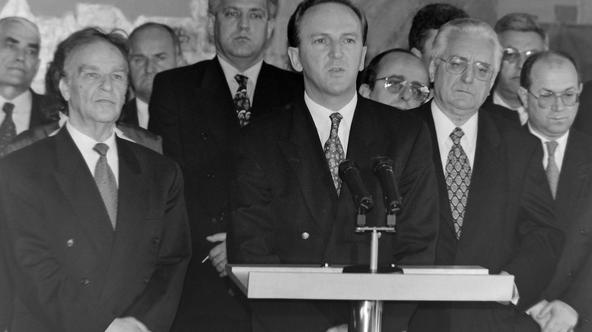 Krešimir Zubak, Minister of the Ministry of Justice in Herceg-Bosnia. Obtaining his position during the time when Herceg-Bosnia took in Croatian and Bosnian refugees and played a key role in defence, while it sometimes also committed crimes against humanity (Heliodrom, Dretlej, Vojno). It was precisely this office which made provisions, regulations and statutes. Such things could not have happened without accordance to orders, rule books and laws. In that case, who was in charge of making these laws? Krešimir Zubak was, in addition to continuing to steer Herceg-Bosnia. How did he evade The Hague and why is he an honorary citizen of Sarajevo, along to being an esteemed guest at international conferences? It is an imperative to provide an explanation to the general public why both Mesić and Zubak were spared, all the while others being prosecuted. Camps in Herceg-Bosnia were never set up by the general assembly, but by authority, civil authority, which he led himself. This was later confirmed by The Hague. Setting them up also required another signature, that of Prlić, but it is a peculiar comprehension that Zubak hitherto prepared the grounds. Moreover, no criminal investigation was ever conducted. Years of silence followed by rethorics which awfully remind of the same footsteps previously walked by Mesić and Kosor. A rhetoric which contradicts previous stances which goes to prove it is rather possible to evade inflammatory history. What matters is to be the first one to capitulate into submission. As Prlić grasped this concept, he attempted to extradite top officers of Herceg-Bosnia, but the plan dawned onto him too late, in second place, after Krešimir the First.
Bakir, a shadow architect
The son of Alija was not quite a no-one during war. Hiding him in vaults and warehouses, portraying him as an inessential war figure, a ''dad's clumsy kid'' is an insult. Bakir is an exceptionally intelligent man, an indispensable war architect, a vital component of Islamization of the Armed Forces of Bosnia and Herzegovina. Therefore, he had complete insight, acutely aware of who, when and how sent the mujahedeen. He also knows who financed them. He is familiar with all crimes committed from the beginning of the conflict all the way up to 1992. He is also familiar with orders his father gave to Seher, orders passed on from Rasim Delić to Blaž Kraljević (in Dretelj), as well as what Delić did in Oren and Dretelj. How does a law-abiding citizen who supposedly respects the country's Constitution decide not to disclose findings of criminal offence to a court authority? Has a single Bosniak war leader, including Bakir, been found of covering up crimes? Recent knowledge obtained by the Prosecution? Time goes on, while the Bosniak elite continue to hide criminal transgressors of the Armed forces of Bosnia and Herzegovina, dating back to 1992 and 1993. When history dies, the verdict will favor them. A jihad fighter will be able to self-proclaim as an anti-fascist. No nation has circumvented convicting of its high-ranking war leaders like the Bosniaks. Even their leader nowadays, Džaferović, AID member, is nowhere to be found on the blacklist. Komšić, one of the two Bosniak representatives, shot BIH citizens. Is it possible to name another country where an elected President was an aggressor against the citizens of his own country? Even though AIF coordinated jihad fighters, the same remain present on the scene. Their fighters, their mercenaries, will be the ones who position themselves as Islamic radicals in New York, following years of incubation in BiH. While the Bosniak political elite firmly lobbied maecenas of modern terrorism, it is bizarre to comprehend that Ljubo Ćesić Rojs was blacklisted by the US. Those communicating were Bakir Alispahić and Husein Živalj (former Ambassador of BiH to the UN). It was found that Živalj was in touch with the Muslim brotherhood prior to and post 9/11, and that following the attack he escaped to Austria, burned evidence of granting Bin Laden a BiH passport, and eventually disappeared. Alispahić, even while declared a threat by the US, easily co-created the media landscape in BiH. Alongside, he enjoys Social Democratic Party gatherings, until recently even the ones of the Democratic Front. In conclusion, these are the strong points of the BH block. Peđa Kojović doesn't hesitate to explain to Serbs and Croats that it was Serbia and Croatia acting as aggressors, failing to include the indispensable facts which include Jordanians, Iranians and Bakir Alispahić. He is a patriot after all, no? And we should trust what Kojović says.