Al-Qaeda in Bosnia and Herzegovina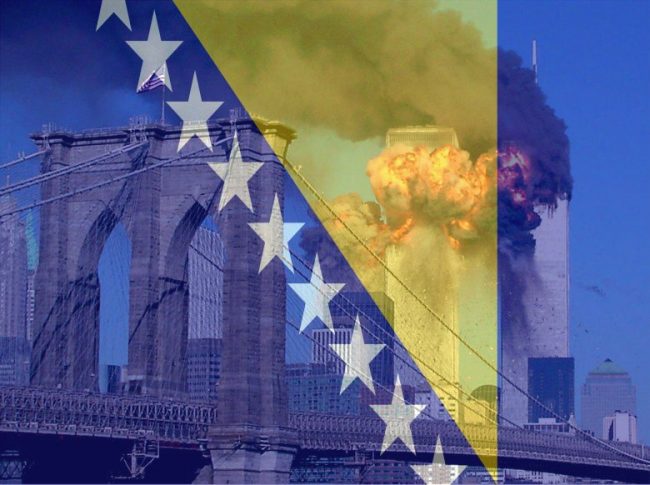 Al-Qaeda in Bosnia and Herzegovina is the al-Qaeda branch based in Bosnia and Herzegovina, formed during the Bosnian War in 1992. During the Bosnian War, the group contributed volunteers to the Bosnian mujahideen (called El Mudžahid), a volunteer detachment of the Army of the Republic of Bosnia and Herzegovina. The group operated through the Saudi High Commission for Relief of Bosnia and Herzegovina (SHC), and after the war carried out the Mostar car bombing in 1997. The operations in Bosnia occurred following the Soviet–Afghan War.
Bosnian War
During the Bosnian War, al-Qaeda contributed to the radicalisation of European Muslims. Al-Qaeda's operations in Bosnia were led by Ayman al-Zawahiri in 1993. Al-Qaeda-leader Osama bin Laden, is thought to have visited camps in the country between 1994 and 1996. Volunteer mujahideen arrived from all around the world, including France, Indonesia, Iraq, Malaysia, Morocco, Russia, Saudi Arabia, Spain, Thailand, the United Kingdom, the United States and Yemen.
After the war
After the war, al-Qaeda reestablished its connections in Bosnia and Herzegovina through the SHC charity organization. The organization was closely tied and financed by the Saudi government, for which reason an American judge declared it immune after the September 11 attacks in 2001, concluding that it's a body of the Saudi government. In 2002, the Ministry of Finance of the Federation of Bosnia and Herzegovina conducted a raid in offices of the SHC and found documents that led them to believe that the SHC was "a front of radicals and terrorist related activities". The same year, an employer of the USAID William Jefferson was killed. One of the suspects was Ahmed Zuhair Handala, linked to the SHC.
In 1996, the National Security Agency (NSA) found out through wiretapping devices that prince Salman financed Islamist militants through charity organizations. A report of the CIA from the same year said that "the CIA has evidence that even high officials of charity organizations and supervisory boards in Saudi Arabia, Kuwait and Pakistan, such those of the Saudi High Commission, are participating in illicit activities, including support of terrorists."
Ronald Jacquard claims that majority of the SHC officials supported Osama bin Laden. Even though it participated in legitimate charity, the SHC used its charity character for sending illegal merchandise, drugs and weapons in Bosnia and Herzegovina. In May 1997, a French military report wrote that "the Saudi High Commission, under cover of the humanitarian aid, is helping a development of permanent islamisation of Bosnia and Herzegovina influencing the country's youth. A successful end of this plan would give Islamic fundamentalism a perfect position in Europe and gave cover to members of the Bin Laden's organization".
A terrorist attack occurred in Mostar in 1997, executed by Handala and his two associates, also linked to the SHC. They managed to escape, but Handala was arrested after the September 11 attacks and detained in the Guantanamo Bay detention camp.
In late 2001, a raid was carried out by United States Special Forces on local SHC headquarters in Ilidža, a suburb of Sarajevo.[1] In the raid documents, including manuals on how to forge the United States Secretary of State office ID cards, as well as manuscripts and notes on meetings with Bin Laden were found. Other al-Qaeda fronts such as Vazir (successor of al-Haramain Foundation) and the Global Relief Fund were also shut down.[2]
A Bosnian raid on al-Haramain Foundation, an organisation reportedly tied to al-Gama'at Islamiya which worked closely with al-Qaeda, uncovered tapes calling for attacks on peacekeepers in Bosnia. The Bosnian police also raided the offices of Benevolence International Foundation (BIF), finding weapons, military manuals, a fake passport and photos of Bin Laden.[3] The evidence uncovered by Bosnian authorities on BIF's office on March 19, 2002, led to the arrests of Munib Zahiragic, the head of its Bosnian chapter, and Enaam Arnaout.
Attacks and terror plots
The United States Embassy and that of United Kingdom in Sarajevo were closed down in October 2001 under threat of terrorist attacks. The Supreme Court of BiH issued arrest warrants against those suspected of planning bomb attacks on the embassies. Five suspects of North African origins, were arrested including four Algerians with Bosnian citizenship. One of them, Bensayah Belkacem, was identified as a high-ranking Al-Qaeda figure with personal connections to Bin Laden. He was also on the payroll of the Saudi-financed Islamic Balkan Center in Zenica. The men were later handed over to SFOR and transferred to Guantanamo Bay.In October 2001, Bosnian-Herzegovinan police officers arrested several Bosnian citizens of Algerian origin on charges of plotting to fly small aircraft from Visoko and crash them into SFOR bases in Tuzla and Bratunac.
On 24 December 2002, Muamer Topalović killed a married couple and their daughter and also wounded their son in village of Kostajnica. He claimed that he killed them because of ideological and religious reasons. He was sentenced to 35 years in prison.
In 2005, the plot to bomb the funeral of Pope John Paul II was discovered in Croatia. The plot originated from Gornja Maoča, a Wahhabist village in northern Bosnia, and included smuggling rocket launchers, explosives and detonators to Italy. The same year, Bosnian-Herzegovina police raided an apartment connected to a group seeking to blow up the British Embassy in Sarajevo, seizing explosives, rifles, other arms, and a video pledging vengeance for jihadists killed in Afghanistan and Iraq. Amongst the arrested was a Swedish citizen of Bosnian Muslim origin, who ran a website on behalf of Abu Musab al-Zarqawi, head of al-Qaeda in Iraq.
The next year, in 2006, a group of Bosnians and Macedonians linked to al-Qaida was arrested in northern Italy, after smuggling 1,800 guns in that country from Istanbul.
In 2007, Swedish citizen Mirsad Bektašević (8 years and 4 months), Danish Turk Abdulkadir Cesur (6 and half years) and Bajro Ikanović (4 years) were convicted on charges for terrorism. Bektašević and Cesur traveled to Bosnia in 2005 with intention to commit terrorist attack on unidentified target in Bosnia or elsewhere in Europe. During investigation police seized guns, 20 kilograms of explosives, suicide vests, extremist documents, videos and testament.
In March 2008, in an operation conducted in Sarajevo and Bugojno police arrested Rijad Rustempašić, Abdulah Handžić and Edin Velić. They were accused for preparing terrorist attacks on facilities of Government of Republika Srpska, Roman Catholic Church, EUFOR and Armed Forces of Bosnia and Herzegovina. Rustempašić was declared guilty and was sentenced on 4 and half years, while Velić and Handžić were sentenced on 3 years and 4 months.
On 9 October 2008, security guard died in an explosion in shopping center in Vitez. Several persons were wounded. Amir Ibrahimi, who admitted he was guilty, was sentenced on 2 years in jail.[4] He testified against Suvad Đidić, who was sentenced on 9 years in jail.
On 27 June 2010, Haris Čaušević bombed a police station in Bugojno and tried to escape. One policeman died in an attack and 6 were wounded. Haris Čaušević was a supporter of al-Qaeda. He attacked Sulejman Tihić in mosque in Bugojno for "sending army in Iraq to die for American interests" and left the mosque shouting "long live al-Qaeda". Čaušević was sentenced on 45 years and Adnan Haračić got 14 years in jail. Accused Naser Palislamović was acquitted of all charges.
In April 2011, Zijad Dervišević was sentenced on 8, Amel Sefer on 7 and Saša Bonić on 6 years in jail for detonating an explosive device in April 2010 under an automobile in which were, at the moment, Pero Mamić and Ivo Tadić, MPs of HDZ BiH in Assembly of Zenica-Doboj Canton. No one was injured.
On 28 October 2011, Salafi Mevlid Jašarević attacked U.S. embassy in Sarajevo. Police wounded and then arrested the attacker. No one died in an attack, although one person was wounded. He was sentenced on 17 years in jail. In retrial he was sentenced to 15 years.
On 27 April 2015, Nerdin Ibrić attacked a police station in Zvornik, killing one police officer in front of the station. He then went inside the station and wounded two more police officers before he was killed.
On 18 November 2015, Salafi Enes Omeragić walked into a betting shop in Sarajevo and killed two soldiers, before exiting and firing on a bus, injuring the driver and two passengers. After a manhunt, police cornered the attacker in the building where he resided early on November 19. He committed suicide by detonating two explosives.
See also:
References
Sources